Still writing these days; it feels very therapeutic to scribble small stories down like this.
Inspiration is needed in the process. Ideas and insights always come to me whenever they happen to do – in their own time. It can't be forced with this kind of creative or artistic oriented work: work from your Heart & Soul. Well, I did know that already…
I've been writing since I got sick now and it might end up a rather sentimental and timeless children's book. In a way – sort of. And at the same time for adults as well. Or the inner sensitive child inside many sensitive grown-ups, I'm sure.
– I wish I could bring an empowering message to this group, whose particular traits, abilities and gifts so often are undervalued in modern society. I know from personal experience.
The genre is magical realism. And the protagonist is a little, highly sensitive girl who develops an imaginary friend.
It is both quite fun, highly meaningful and satisfying to write it. Feels like this might be my purpose in life, even 😉
From me to you; an especially warm and resounding:
Merry Christmas!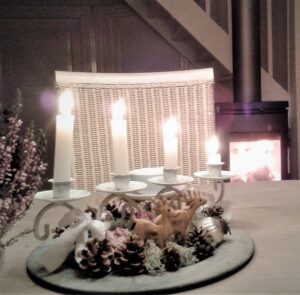 Ferry in the mist..