I have a secret love affair going on.
It's between me and the color red. Actually perhaps this affair includes orange and pink, too – so let's just say that I have a secret love affair with "warm and fiery" colors.
My sensitive nervous system won't allow me to paint or decorate with such powerful colors inside my house. It's to unsettling for me to look at everyday. It has to be all white, douche or very light colors, instead. Lighter nuances lift my mood, soothe the senses and pleases my eyes.
-It makes for a more soft and serene environment. More calming for the senses.
Yet, the outside wall of my house is painted in a slightly faded red nuance. And I love that color.
But I have trouble working with red colors in my paintings, too. It just always goes wrong, so I prefer to use a lighter scale. Dark, gloomy colors or "screaming" red/orange – no thank you!
The adjective "screaming" actually perfectly explains why: a lot of red colors are simply to "loud", they feel a bit overwhelming or chaotic to look at. Almost aggressive and intrusive.
And..then there's this other part of me that loves certain warm, glowing red tones. Because; they are of course not only loud, unsettling and intrusive.
No, no – they also express passion, vitality & vibrant LIFE. P
erhaps even raw, feminine power!
So w
here am I going with this observation?
Well: it exposes a similar contradiction in myself…sometimes even an inner conflict:
A (strong) need for a peaceful life in undisturbed contemplation vs a need for a passionate life with a warm and engaging connection to the world.
-being sensitive or introverted, certainly doesn't mean that we don't have deep seated passions..
But it's probably just a question of finding a proper balance, I guess.
I'm not there yet. But then small steps matter, too:
Like last week when I found a pair of red "El Naturalista" ballerina shoes in a second hand shop. It was a real bargain and I had to have them!
They fit perfectly. Feminine, yet robust and with low heels, so I don't loose touch with the ground😁
I will wear these "new" red shoes with the greatest of joy!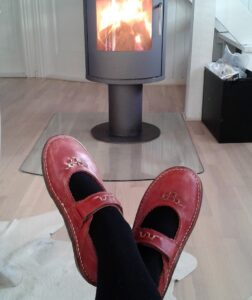 On a similar note, I've just written a little new poem.